Is it too easy to pick up the phone and call the DACdb support number? We hope not. That's why we have created a very complete library of documents and videos that you can use to find out how to effectively use DACdb to make your Rotary life easier!
We promise that we are working to re-create our Help (now called Support) facility to make it even easier for you to find the information you need to exploit the many features of DACdb.
Today we'll show you how to use the current Support system and will update you as things are rearranged to make access more intuitive.
Once you are logged into DACdb, click on the "Support" tab to open the left hand Support navigation menu:
Before we dive into the "Support Navigation" menu to see what treasures it contains we want to point out some things that are here on the Support landing page.
First, notice the large golden button. Click on this to fill out a support ticket as it says. But… when would you want to do that? There are several reasons you may want to take this route:
You have discovered a flaw in the way the software works and want to report it.
You have discovered a misspelled word.
You want to suggest an improvement we can make to DACdb products.
Your issue isn't urgent, just something you'd like to see addressed.
There are an enormous number of helpful aids under the "Support Navigation" menu. One area that might prove useful to both members and club officers is the "Members" folder. If you click on the + sign to the left of the folder name to open it you'll see a list of sub-topics: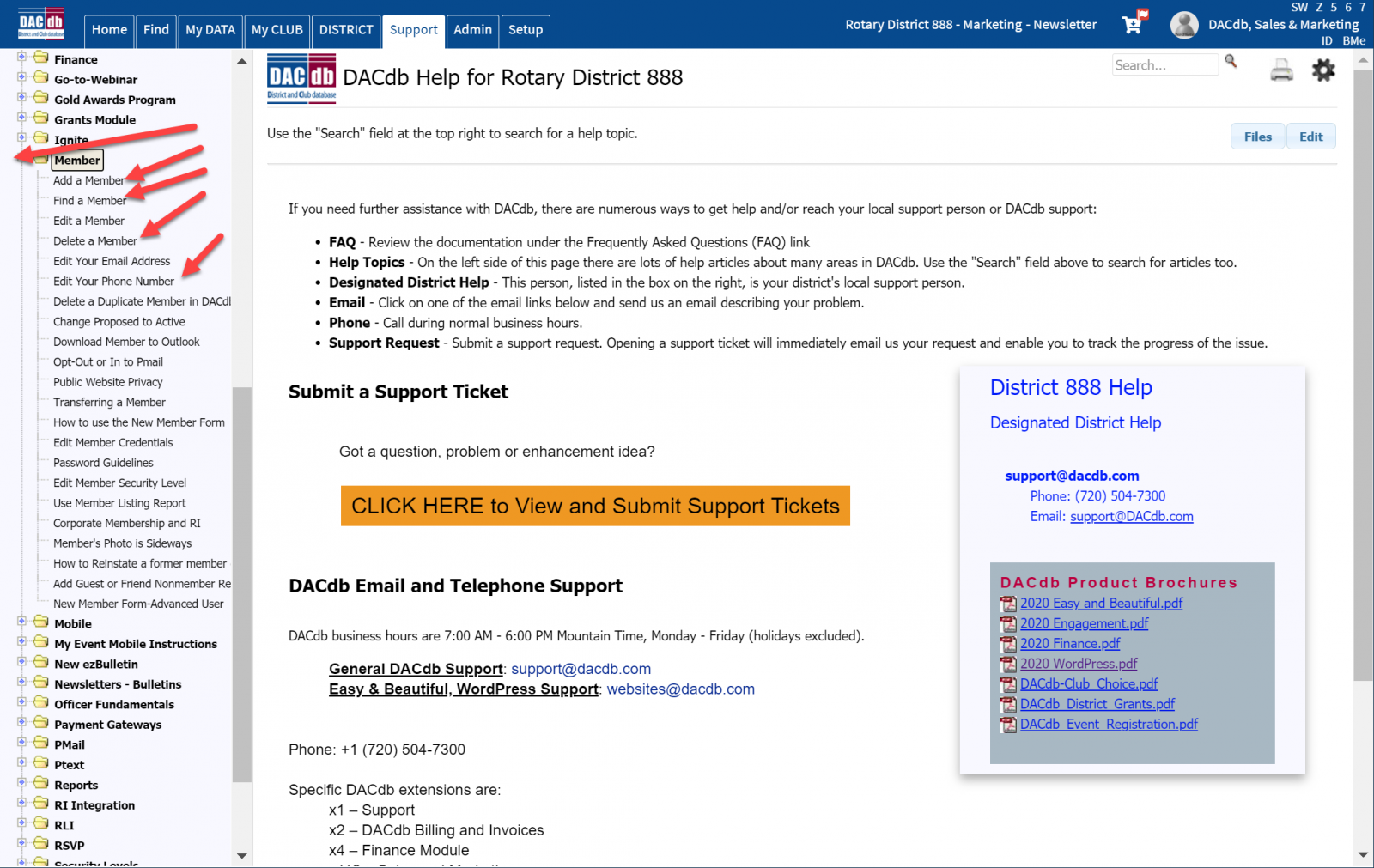 Other folders similarly hold links to help you perform updates to information and to use that information most effectively.
As many of you already know we have been holding ½ hour long training sessions each week since late March 2020. Those sessions are recorded and made available in the Support area for your convenience. To get to them, click on the "Support" tab, then click on "DACdb Training" and then click on "2020-21 DACdb University Tuesday Training". You'll find there a list of links to the video for each session.
???????
So, before you pick up the phone and give us a call you may want to look in our Support area for assistance with exploiting the many ways DACdb can make YOUR life as a Rotarian easier.